Zoe et Maya trainaient à la maison de Zoe. Ils regardent l'instagram oui, arrêtons de chercher maintenant. Dit Zoe, non juste un de oui. Dit Maya. Ils ont regarde une photo mignonne d'un chien. Le telephone commence a trembler,
 "Qu'est-ce qui se passe?"
Dit Zoe, "Je ne sais pas!" dit Maya.
Ils ont commence a voir de choses differemment.
Ils ont commencé à voir les choses différemment, la salle a commencé à tourner.
"Whoaaa, ooh whoa" Zoé commence à avoir des hallucinations. "AAAAAAAHHHHHH" , crie Maya. Pendant que la pièce tournait, elle est soudainement devenue toute sombre.
Puis ils ont vu la chambre normale dans la maison de Zoé.
"Whoa, c'était bizarre." Dit Maya.
"Bon, c'est fini maintenant, reposons-nous, il y a école demain." Dit :Zoe
"Oui" Maya a dit, en baillant.
Le lendemain, ils sont allés à l'école, mais bizarrement, tout le monde avait l'air différent. Elles ont regardé les badges de leurs amis, mais ce n'était pas leurs vrais noms, Mia s'appelait Aim, et Lily s'appelait Ylil.
"Pourquoi leurs noms sont-ils appelés à l'envers?" a demandé Zoe. 
"J'ai ne sais pas!" Maya crie.  "Oh, salut Ayam et Oez" dit Mada.
"Huh???"
"Il doit penser que nous sommes nous-mêmes mais juste dans cet univers !" Crie Zoe
Ensuite, ils ont vu différentes versions d'eux-mêmes!
Dès qu'ils étaient sur le point de parler… la pièce est devenue sombre.
Et ensuite, tout est redevenu normal. "Whoa, c'était bizarre" dit Maya.
"Oui".. . dit Zoe.
"Maintenant, reposons-nous, écoles demain."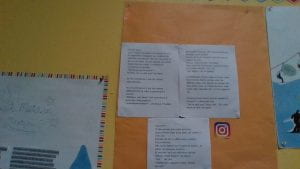 Reconciliation means to restore or rebuild the community.
This week I learned that the first nations are treated differently than everyone else. The people are just like us and it is not fair that they get paid differently and treated differently.  They had to go through residential schools that changed for the worse their hair was cut and they would get a beating if they were caught speaking their language or caught performing their rituals. The last residential school closed in 1996 in Saskatchewan. John A Macdonald the former prime minister of Canada he was also the one who funded the residential schools with many churches. Over 150 000 people attended residential schools and over 5400 bodies have been found 
There were many stories of people in residential schools. I will talk about the story of Chanie Wenjack. He was a very brave 12-year-old boy from Ojibway. He ran away in the winter of October with his 2 friends. They made it to his uncle's house for a few days until his uncle said that they would need to go because he was not very well off and could not supply them anymore. Both of his friends went back to the residential school but decided to walk to his home. He froze to death and starved. Gordon Downie is a famous rock musician who made a song about Chanie Wenjack, a secret path. Heritage Minutes: Chanie Wenjack – YouTube 
One thing that we can do to help is wearing an orange shirt on September 30 to show that you care.